In the current situation of the global economy and the close competition between the quality and the price of digital items, Kingstar company with the slogan "Always the Best" offering services and product guarantee, is known to be a leading company in customer satisfaction and support.
Kingstar Company has aligned the customers with it's sales policies by offering various sales plans.
The company employs domestic and foreign specialists and by benefiting modern technology, has been able to present it's products in the different countries and has been able to conclude sales and service cooperation agreements.
Due to the popularity of Kingstar products, the company has recently added mousses and keyboards in it's product portfolio.
Having the right tools is a must for any job. For the people who spend several hours a day behind the screen of a computer, the mouse and the keyboard are vital tools that ensure the health of the user.
When selecting a mouse and a keyboard, we must consider these following elements:
Size and weight: Pay attention to the size of your hand and buy the mouse suitable for it.
Ergonomics: Ergonomics are usually in contrast to beauty, which should be prioritized depending on the need.
Wireless and wired: Wired products are more used in desktop computers. Although wireless products are easier to use, they have lower communication speeds.
Mouse accuracy: which is indicated by the symbol" DPI" and the higher the number, the higher the mouse accuracy.
Keyboard Button's Sensitivity: The type of membrane switch used on keyboards makes a big difference in the button's sensitivity, volume, and comfort.
Number of mouse and keyboard buttons: Extra mouse buttons are usually designed to plan special functions, and the multimedia buttons on the keyboard usually provide a shortcut for easy user-usage.
Lighting: A backlight for the mouse and keyboards can also help enhancing your desk and ease the usage at night.
In the following paragraph, we will introduce one of Kingstar's mice: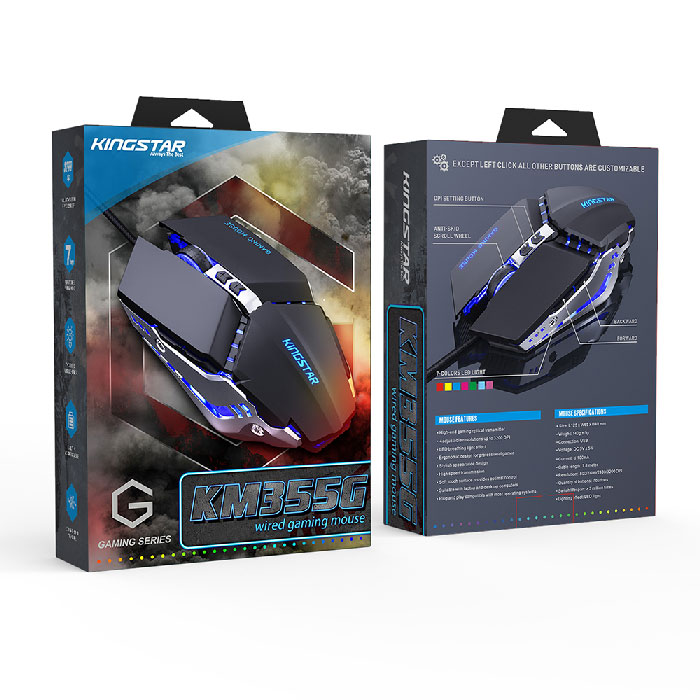 The Kingstar wired gaming mouse Model KM355G is connected to the computer via USB port and a cable. The length of the cable of this mouse is 1.8 meters and the cover of the cable is made of braided material. The ergonomic design of the KM355G gaming mouse gives you the feeling of comfort during using it without feeling tired after continuous use.
One of the most important specifications of Kingstar KM355G gaming mouse is it's adjustable resolution that can be set up to 3200 DPI. The buttons on this product are programmable and the user is able to customize them according to their needs in the dedicated Kingstar software.
So, if you are looking for a nice and durable gaming mouse, Kingstar products can certainly be one of the best options to choose.
lastly, you can send the required information referring to your desired product to our Order Request Section and get a response from our colleagues in the commercial department, Or you could send an email to sales@kingstar.ws